Back to School Must-Haves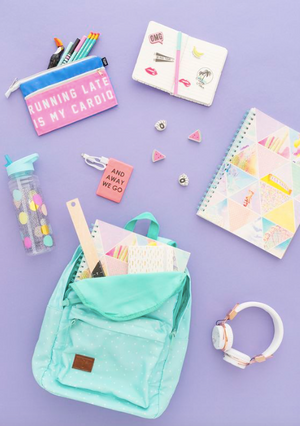 While we may be in denial that school is about to start, we are slightly excited about new school supplies! School supply shopping can be fun, you get to pick out everything you want to use throughout your days and there are so many adorable options to choose from. From notebooks to backpacks, colored pens and sticky notes and everything in between; there is so much to choose from! We are highlighting our must-haves for back to school shopping to make your year the most enjoyable and successful yet! 
First things first - in addition to your required school supplies, there are a few things you may want to pick up to make your days run smoothly. Cute pencils, bright pens, highlighters and colored pencils are a given - so you have to have a cute pencil pouch to hold all of your writing utensils in one place. You can also keep erasers, post-it notes, and other small items in there to stay organized. 
As far as technology goes, there are a few items you may want to keep in your backpack or locker: headphones and a cordless charger. Headphones will probably be used quite a bit with your school computer, your phone, etc. Whether you are a headphones or earbuds girl, you will be so prepared either way! A cordless charging block is another great option to keep in your bag for days when your phone is low on battery. It is discrete and will be a lifesaver when your battery hits 10%! 
Now, let's chat about a few 'self care' items you may want to keep with you throughout your school days! A water bottle is our number one recommendation to get school-ready! You want to be able to stay hydrated throughout the day. Pick something cute that you will be able to recognize so there are no mix ups! Additionally, a small emergency kit with a mini hair brush, tissues, hand sanitizer, a hairband or scrunchie, deodorant, and anything else you think you might need!