Back to School Outfit Inspo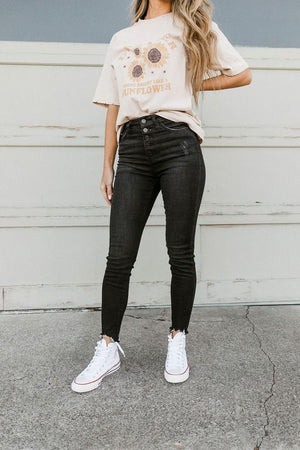 We know that no one wants to talk about going back to school, but we have to face the fact that school is about to start. It always is difficult to choose outfits for school but no need to worry, we've got you covered! Let's jump right into this blog! 
The first outfit we are going to show is a classic back to school fit. The graphic tee and black jeans combo has never done us wrong. You can always put a personal twist on this look. Such as, substituting skinny jeans for mom jeans or throwing on a pair of different shoes. This look is so fun and comfortable, perfect for school! 
This next look is similar to the first, except we pulled a sweatshirt rather than a tee. We all know how cold those classrooms can be, so sometimes you need a sweatshirt. A fun sweatshirt paired with a pair of ripped jeans is such an easy but cute look. You can wear whichever shoes you want but we would pick a pair of white sneakers. 
The last look is more on the comfy side of things. Some days you just feel like wearing something comfortable. Our solution to this is to throw on a matching sweatshirt and sweatpants set. If this isn't for you, leggings are always a good option. You can pair this look with any kind of sneakers and maybe some fun jewelry. We hope you liked our outfit ideas!