Bright Hues from Morilee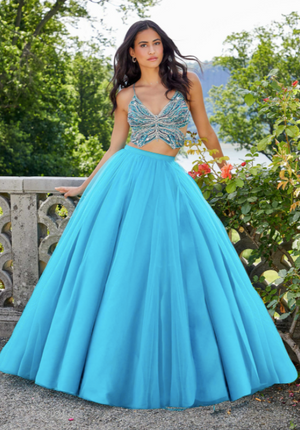 Morilee's spring 2022 collection is full of stunning, timeless numbers that are sure to make you swoon! Morilee's neutrals and jewel tones are always staples in their collections, but this year they are jumping on the bright colors trend! We have all the heart-eyes for Morilee's spring line, and this fabulous color palette! 
First, let's take a look at Morilee's style 47032. This gown has several of the hottest trends, all rolled into one look. It features an asymmetrical neckline with one shoulder strap, a sleek fit and subtle trumpet hem. The gown is adorned with sequin patterns throughout for added texture and sparkle. The look is made complete with a high slit, so make sure you pick out some super cute shoes! 
Turquoise is making an epic splash this season and we are so here for it! Morilee's style 47033 is a real statement piece. If you are looking to make a grand entrance into prom, this gown is just the ticket. The bodice is fully beaded, with a v-neckline and side cutouts; the shape and beadwork pattern make the bodice look like a butterfly which is super fun. The bodice is paired with a tulle ballgown skirt that is just gorgeous. The color really makes this gown and its details pop! 
Morilee's style 47038 is crafted to perfection! This gown has a classic fit, sequined floral embellishments and a high slit. The fit is super sleek, while the embellishments add texture and a subtle shimmer. We are obsessed with this gown in the bright orange color option, but it also comes in teal; such stunning colors for spring formal events!