Effortless Beauty Tips for Hair and Makeup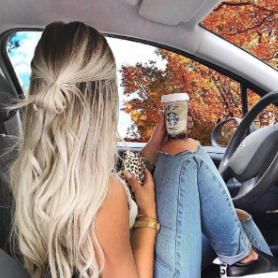 Ah, school. Everyone's favorite time of the year. We're just kidding! We know most of you dread it. It's time to start doing the bare minimum of make-up and the quickest hairstyles known to women-kind. Luckily quarantine has prepared us for the quick and easy looks. We know you perfected that messy bun and nailed that half-up updo, so let's get to talking about these trendy yet easy hairdos!
First up is that awesome messy bun! This cute, care-free look is great for everyone, and it's not that hard to fix. Just twist, tie, tug and go. You can play it off with a scrunchie or a teletie to make it loose, or put it up with a normal hair tie to keep it tight. You could also tie it off with a hair scarf to give it that vintage style we all love!
 Next up is a personal favorite! The infamous half-up half-down look. This look is the best for midday put ups. It is also great for a run out the door look. Again, you can tie it with a scarf or a scrunchie for a great aesthetic style. You can also use this half-up concept to do an edgy top knot with wispy hairs pulled out of the bun to frame your face perfectly.
Finally we come up on this trendy TikTok style. The clips! You can quite literally do anything with the clips. You can twist all your hair to the back and clip it up, or clip the front pieces with stylish butterfly clips. This is a great way to incorporate the latest 90s trend. These butterfly clips also give you a wide variety of color, so you can find a clip to match every outfit. Now let's tie that hair up and seize the day with full confidence! Till next post, fashionistas!