End of Summer Activity Inspo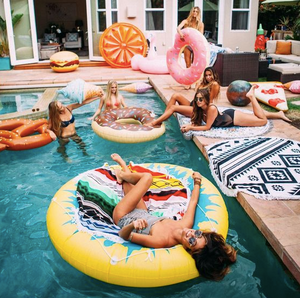 The summer season is starting to wind down, and school will be back in session before we know it. With that said, we want to encourage all of our girls to get out there and enjoy the last few weeks of summer vacation! If there are still items on your summer bucket list that you haven't checked off yet, now is the perfect time to knock out what you can! We have a few ideas of fun activities that you can try out if you are looking for something to soak up the end of summer vibes! 
We are always here for any kind of get together that involves snacks and spending time with your favorite people! You could gather up your girls for a fun girl's brunch, or take it up a notch and plan an adorable picnic! Picnic's are easy to throw together, the set up will be the perfect photo opportunity, and you will make such fun memories with your people! All you have to do is invite your friends and either have them bring items or make little baskets of snacks! How cute are these?! 
A pool party is also a perfect, super simple way to celebrate the last few days of summer break! Having all your friends get together for a day in the sun is just about as fun as it gets! Round up your favorite floats, cutest pool towels and a few snacks and you will be set for the whole day! Play some summer time music and just take a day to relax and recharge! 
Another great way to celebrate the end of the season is with something that also gives off some Fall vibes - a bonfire! We love the crisp fall days where we can relax by a fire, but bonfires can also happen in the summertime! Gather your friends and family around a cozy fire one evening to enjoy s'mores, listen to music, and just enjoy each other's company!