Fall Boots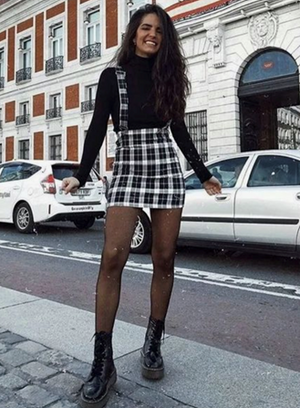 Well it's almost fall! That means we need to be prepared to break out Fleetwood Mac, dark colors, and the boots. Thigh-high boots, combat boots, Chelsea boots, or really just any pair of boots will do. By now you've probably guessed it, though, today we're all about the boots. Why? Obviously, because all these boots are made for walking and that's what they'll do.
First we've got the sassy little thigh-high boots. These boots are ready to hit the NYC shopping spree at H&M. These beauties are paired wonderfully with a cute, black and white plaid skirt and black top. The knee-highs are also marvelous to pair with jeans and a cute sweater and your favorite crossbody bag. 
Next there's the edgy combat boot. There's a wide variety of pairs with these babes, but, I mean, the best are the Doc Marten looks. Who doesn't want to have that Urban Outfitters aesthetic going on? These edgy platforms give a perfect amount of fallish softness to work with a cute dress.
Final boot, and this one is everyone's favorite go to. The Chelsea boot has got it all going on. They have the cuteness. They have the edge. They've got it all. These awesome booties literally go with everything. Chelsea boots are the perfect fashion fit for your closet.