Fall Nail Inspo!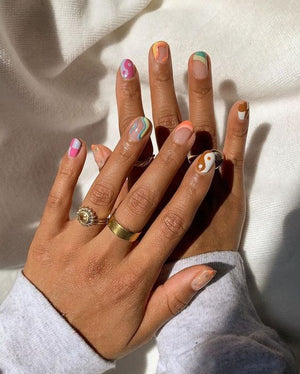 Happy (almost) fall ladies! It's time to put away all the bright neon colors from summer. Now it's time for dark and muted colored nails. Today we are going to showcase some of our favorite nail looks for fall. Let's jump right into this blog!
First up we have the classic different shades of one color. We did this in the summer but the only difference is this season we are going for muted colors, rather than neon. Our color today is tan/brown, which is perfect for fall. We absolutely love the gradient look of these nails. You could also substitute for maroon, rosey pink, or green. 
Up next is a fun groovy print. These nails have a little bit of everything going on, from swirls, to polka dots, to checkers, to the ying-yang symbol. We love how these nails are asymmetrical and so trendy. They even incorporate our favorite fall colors, we can't get enough of these nails!
Lastly is the classic groovy print nails, but with a fall twist! These nails can be used for any season but our favorite is fall. You could use the colors brown, sage green, maroon, or vintage blue. You could even mix up the colors and use more than one! This nail art will never be out of style!