Our Favorite Fall Trends!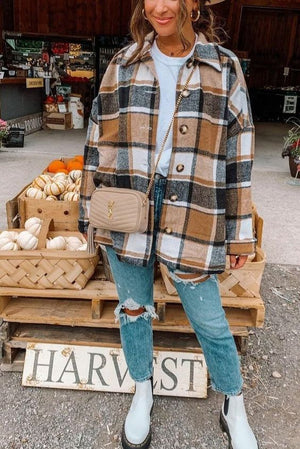 Sweater weather here, ladies! This is our favorite time of the year, sweaters, pumpkin spice lattes, flannels, booties, and cozy socks! These are key factors in some of our favorite fall outfits! Let's get this cozy blog started! 
In the fall season, layers are a girl's best friend! Our favorite layering piece this year is a shacket! Shackets are essentially just thick flannels, we also think that they are a tad dressier than flannels. Shackets come in all prints and colors, so you can choose whatever fits your vibe! Our favorite way to style them is with a plain shirt or hoodie and some mom jeans. For shoes you can wear some fun sneakers or some booties.
Sweaters are our favorite fall staple. We love that they are so versatile! You can dress them up with a cute skirt or go for a comfy look with some leggings. We personally love oversized sweaters paired with some big earrings. Depending on the sweater, you can wear mom jeans or skinny jeans. Also, no outfit is complete without a Starbucks cup in hand!
Last but not least is a corduroy jacket! Nothing says fall like corduroy! These jackets can be super thin to wear on warmer fall days or super thick for the chilly days. Either way, we love them all! Our favorite way to style these jackets is with a crop top and some mom jeans. The two things that complete this outfit are statement jewelry and some boots! We hope you enjoyed reading our outfit inspo!