Festive Holiday Treats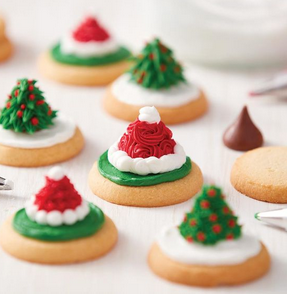 It's one of the tastiest times of the year! From cookies, to unique treats, to specialty drinks, our taste buds are truly fans of the winter weather and Christmas goodies! We're gonna let you in on some of our favorite recipes and treat ideas!
First up we have classic Christmas cookies! Whether you wanna stay traditional with simple sugar, chocolate chip, and gingerbread cookies or create your own take on them, we encourage you to do so! Here's to introducing a fresh take on the classic sugar cookie! All you'll need is sugar cookies, icing, and large chocolate drops! First, bake them as you normally would, next add a base of icing for the chocolate drop to stick to. Add it, then decorate the drop in icing to create the look of Christmas trees or Santa hats!
 Next we're introducing a fun take on fruit! This one is super simple and will take no time at all. All you need is raspberries and chocolate! Take the chocolate feeling and put it into the raspberries. If you've got leftover chocolate, there's always a reason to make chocolate covered strawberries!
Finally, you'll need to have something to follow after these delicious desserts. How fun does a cranberry and peppermint drink sound! All you'll need is
peppermint syrup, cranberry juice, sparkling juice, lemon-lime soda, ice, and a peppermint stick to see the holiday magic. Add in cranberries for an add in for the aesthetic and the peppermint stick to watch the drink change colors. It's fun and tasty for adults and kids!