Festive July 4th Treats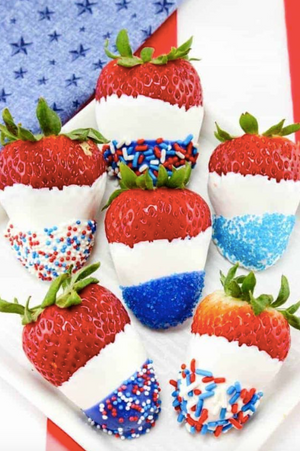 Hello, July!! June came and went in the blink of an eye and now it is time to enjoy all things that July brings. July 4th is just a few days away, and we are so excited to spend the holiday weekend with our favorite people and with lots of yummy, festive treats! So, buckle up and get ready for all things red, white and blue to add some fun and give you inspiration for the holiday weekend! 
It is super easy to make your favorite crowd-pleasing snacks have a festive flare! One of our favorite summer snacks is fresh fruit. Fruit is the perfect addition to your holiday cookout lineup. There is nothing more refreshing than a fruit salad, and they are so easy to throw together! To make your fruit salad have an independence day vibe, we suggest using fruits that are red, white and blue. Options like strawberries, watermelon, raspberries, blueberries, apples and bananas can all be thrown together for the perfect July 4th fruit salad! To add even more spirit to your salad, you can cut the apples and even the watermelon into stars - how cute is that?!? 
Who said chocolate covered strawberries have to be a Valentine's Day thing?! You can easily make strawberries embrace the red, white and blue spirit with minimal effort! Here's how: you obviously need fresh strawberries, white melting chocolate and red white and blue sprinkles. Dip your strawberries in the melted white chocolate, leaving red visible at the top, and then add your sprinkles to bring in some blue! Super simple, and so very delicious! 
For a super yummy snack, try out making a patriotic party mix! No cookout or gathering is quite complete without an appetizer that's sweet and salty! Use your favorite salty snacks like pretzels, popcorn, chex pieces, etc, and then combine with patriotic candies like m&ms, sprinkles, and whatever else you find! We cannot get enough of this tasty mix!