Festive Valentine's Treats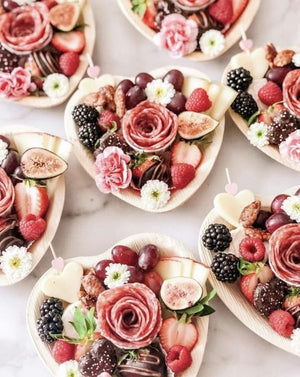 'Tis the season of sweet treats and all things chocolate covered! Valentine's Day is just a few days away and we are indulging in these last few days of treating ourselves! You officially have a few days left to make all the V-day treats you had on your list! There are several we are just dying to try - and they might give you a little more inspiration, too! 
We are always down for a snack mix - any time, any season, any holiday. You can never go wrong with a salty and sweet snack mix! This valentines themed snack mix will be the ultimate hit at your holiday event! It features pretzels, heart shaped marshmallows, m&ms, and hot tamales. This snack mix has so many tasty little snack in it, there is no way anyone doesn't love it! 
Individual charcuterie?! Sign us up!! These miniature charcuterie plates are what the best holiday gatherings are made of! If you are planning a girls night in, a festive get together with friends, etc. you have to try your hand at something like this! We love that these feature all of our fav charcuterie snacks, while also looking festive. Something as simple as heart shaped plates can make all the difference! 
Chocolate covered strawberries are a valentine's staple! We are firm believers that you have to at least eat half a dozen in the month of February. Whether you order them from a local bakery or try your hand at dipping them yourself, either way works! If you try to make them yourself, there are so many color options and decorative designs you can do to make the perfect Valentines treat!