Graduation Outfit Inspiration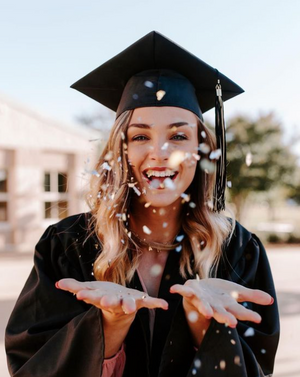 April is almost over and May will be here before we know it! This means that all of the end of year / senior activities are slowly being checked off your list. Proms, last few classes, awards days, celebrations and graduations are all being marked off your calendar these next few weeks! With this in mind, we rounded up some of the cutest graduation dresses that are perfect for your monumental day! 
First things first, the color you wear to graduation can sometimes depend on the color of your cap and gown. If your cap and gown are a dark color, like a neutral or jewel tone you pretty much have the color of your choice! We often vote for a bright, but neutral color like white. There are endless short white dresses out there this time of year. Boutiques, department stores and malls are fully stocked and ready to help you find the perfect look! 
Black is also a powerful color for an event like graduation. A little black dress will really make you stand out and look fierce for your special day. It will also help your cords and decorative pieces of your cap and gown stand out against the darkness of your outfit. A neutral is a fantastic option for graduation day and will look so classic in your photos forever!
While we have talked dresses, we have to also address the shoes! While your dress may be neutral, your shoes can be so fun! Pair your outfit with a pop of color with your shoes or even a little pattern. Block heels and wedges are great options for graduation day, because you want to make sure you can walk with ease as you strut across the stage for your diploma. Heres a few examples to get a little direction for your shopping!