Happy Hallo-Weekend!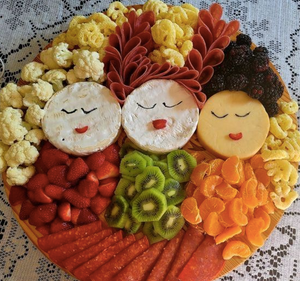 Happy Halloween weekend, y'all! What spooky things are you getting into this weekend?! Halloween is just a few days away and we are so excited to embrace and celebrate the end of spooky season. If you are planning a spooky get together, we are here to help! Spooky themed treats are one of our favorite pieces of Halloween party planning, and there are soooo many fun ideas out there! 
We are big fans of having lots of sweet and salty snacks for you and your guests to enjoy. These pretzel and chocolate spider webs are so cute and so very tasty! All you need are pretzel sticks and melted chocolate. You can use any kind of chocolate, we would vote for white chocolate and milk chocolate for the tastiest pretzel webs! These are just as cute as they are tasty and will add a fun spooky element to your table scape. 
It's no secret that snack boards are our go-to when it comes to party food. They are super simple to throw together, and also provide a plethora of snack foods that will please the masses. The fun thing about snack boards is that you can put whatever you want on it and there are so many festive designs. This board looks like the Sanderson Sisters from Hocus Pocus and we are obsessed! It has cheese, meats, chips, fruits, etc. Just a fabulous mix of food groups that can all work together for a snack board. 
If the weather is going to be a little chilly, it will be the perfect time to whip up a batch of warm apple cider. Nothing gets you in the spirit of Autumn like the smell of the warm cinnamon beverage! We found this cider recipe via Pinterest, and it seems pretty easy to throw together. They also made skulls and mummies out of whole apples to add a spooky flare. So fun!