Hot Pink Makeup Trends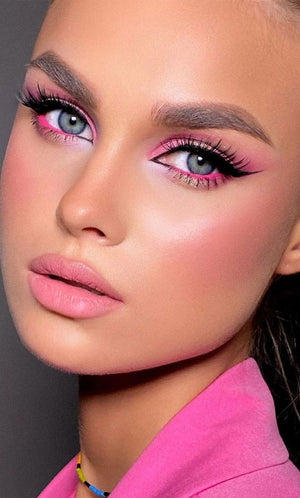 Okay, chicas, we need to talk about this trend. Hot pink makeup is back and we are HERE FOR IT! Now whether you are a pink girl or not, you have to try out these amazinggg looks! So let's hop into this pretty pink filled blog.
This first look is for all those pink lovers out there! This look is bold and fierce! It's definitely a look for you if you are someone that wants to be a little extra with your makeup! Plus, who doesn't love a nice pink eyeliner?
The next look is slightly more subtle than the last look but it's still absolutely great! This trick to this one is to use a softer pink on your lids and then hot pink eyeliner on the bottom lid. This look is a little more casual than the previous look and can be used as a perfect accent for your outfit!
Finally is this timeless look. Okay, if you absolutely hate doing your eyeshadow, this look is sooo for you! Pink lips are definitely the bold look you are looking for! This includes a natural eye with eyeliner and your pink lips. This look is great for anything you need to look classy for.