Keep it Simple with La Femme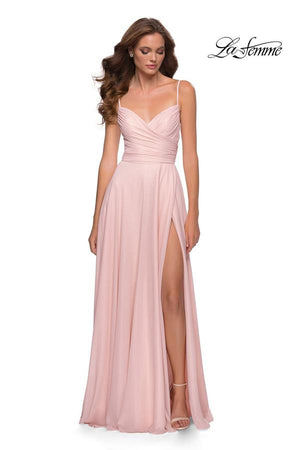 Sometimes all the glitz and glam can be a lot. Everyone has their own style and a lot of girls just love the simple dresses. If that's you, you're in luck! Today we are going to showcase some of our favorite simple stunners from La Femme. 
First up is the La Femme style 29775. This dress is so stunning. The sweetheart neckline is so fitting with the flow of this dress. The fabric of this dress is a metallic chiffon, which still gives it a little shine without being over the top. The bodice has beautiful ruching to make the dress more flattering with the flowy skirt. We can't forget about the gorgeous strappy back, it sets this dress apart from the rest. This dress comes in the colors blush and royal blue. 
Up next is the La Femme style 29837. This dress is perfect if you want a simply stunning dress. This dress is in a jersey material which gives you a sleek look without sacrificing comfort. It also has some shine to it. The ruching on this dress gives it the perfect shape, it also has a fun strappy back.
Lastly is the La Femme style 29873. This dress is so fun. It has a scoop neck top which pairs perfectly with the ruching at the bust. This stretched jersey material is so comfortable and elegant. This dress is the definition of a simple stunner. If you want some bling you can easily throw on some blingy earrings or shoes. If you want to look simple but stunning at prom, La Femme is the designer for you!