Kick Start Your Home Workout Routine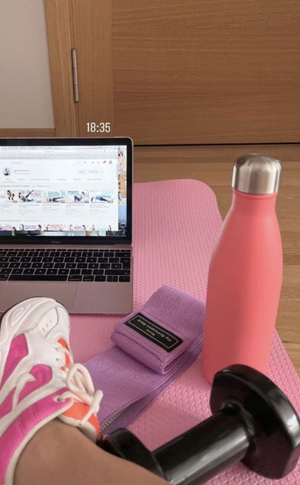 Happy Friday!! January is the perfect time to get focused on your health and fitness goals! The great thing about fitness is that it's super flexible; you do not have to join a gym, you can do everything needed from home! You just need a few small items to get started with, and you can always add to your collection of equipment as you go. So, let's chat about getting started with your home workout routine! 
First things first on your health and fitness journey is a big water bottle or cup that will help you drink lots and lots of water throughout the day. That is a key first step because staying hydrated is so very important to reach your health and fitness goals! Along with that, a yoga mat is also a great starter item so you have a designated space to exercise that can easily be rolled up and put away. 
If you want to start with a few small weights, dumbbells and kettlebells are great options that are so versatile! There are endless exercises you can do with these items, so you are sure to get your money's worth if you commit to putting them to use! Not sure what to do with these weights? No worries, sister! You are not alone! Youtube and Instagram are great resources for workout videos that show you exactly what to do and how many times to do them. There are also countless apps right on your phone that can help you get into a routine! 
There are tons of different options for workout equipment that you can easily use at home. These are a few of our favorites that you can add to your collection as you go. We think the small weights, yoga mat and water bottle are first priorities to get started! But these are great options, too! An exercise ball is great for ab workouts, as well as an ab roller! Resistance bands are also great, and are super versatile, and can be used for upper and lower body exercises.