Lip Gloss: A Beauty Must-Have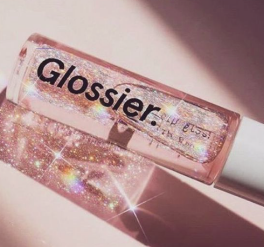 Remember those days when you were young, and all you wanted was that fruity lip gloss. Then one day, everything went matte. Matte lipstick was everything. BUT AT LAST, the glossy look is back! Thank you, Glossier and Milk. Let's get to talking about our favorite lip glosses, glazes, and balms that leave you with that 90s babe feeling!
Glossier has to be one of the most popular makeup brands today. Along with their popularity, they are definitely one of the most aesthetic ones out there. This minimalistic brand has one of the glossiest lip glosses. This gloss has a gorgeous, thick application. It also comes in four great colors. They are totally worth looking into. 
  Next is another great aesthetic brand. If you're looking for that Billie Eilish natural makeup look, Milk Makeup should be your go to. This brand has multiple multi-use products in their inventory, but the lip glaze is where the rage is. This glaze doesn't have the true gloss effect that Glossier does, however they do have a very natural look to theirs. It's also a great hydrator. 
Finally, for you simple girls, we present the lip balms. Out of all the lip balms I've tried, Original Burt's Bees and Carmex are still favorites. However, if you're looking for something a little more high end, Fresh Sugar is still a very good quality lip balm. The mint scent is a personal favorite but there are plenty of options with this brand. They also have lip balms that act as lip tints. All around these brands are really great. You'll absolutely love them! Till next time, 90s girls!