Ombre Stunners from Sherri Hill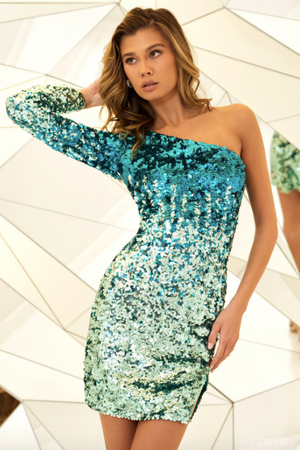 Sherri Hill's Fall 2022 collection is packed full of trend-setting gowns that are sure to make you shine like a star at your next event. Whether you are shopping for a fall formal or homecoming 2022, Sherri Hill has something perfect for you! There are several new trends we are seeing in this new collection, but we wanted to chat about one in particular today - ombre! 
Ombre trends have been coming back for several seasons, and each time these ombre looks just keep getting better and better. Sherri Hill's style 55304 is a fabulous gown that features several of the hottest trends, all wrapped into one look. This gown features an asymmetrical neckline with one shoulder strap, and a sleek bodice. The fit is a classic straight, that accents your figure, and is made complete with a high slit. Ombre is present throughout, with dark purple at the top that fades into a lighter hue down the skirt. 
If you are looking for a short cocktail length number, check out Sherri Hill's style 55302. This dress features an asymmetrical neckline with one long sleeve and a super sleek fit. This look is fully beaded with gorgeous ombre sequins from top to bottom. We are obsessed with this teal color option, it is darker at the top and fades lighter towards the skirt, similar to the first style we talked about. This short number was made for a homecoming queen!! 
Another look on our ombre tour is Sherri Hill's style 55306. This look is also fully sequined with an ombre color palette. This look has a simple style with a straight, strapless neckline. The bodice is super structured, while the skirt is sleek and has a sweep train. This silhouette is unmatched! The high side slit adds even more flare to the overall look.