Orange is IN and Jasz Couture has a style for You!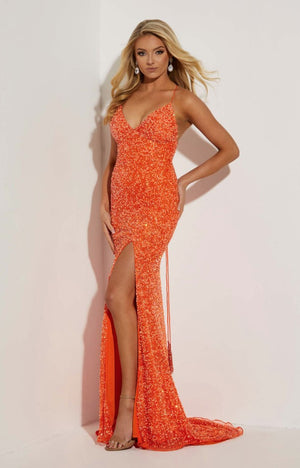 Happy, Happy, Tuesday! Prom season is in full swing around here and we are loving it! It truly is the best time of year. We love helping our Formal Approach Girls find their dream prom gowns. With that said, we wanted to share about a super hot trend we are seeing this season - orange! It has been the year of the Tennessee Vols so we totally understand the hype around orange for prom ;) Anyways, Jasz Couture has crafted some of the most gorgeous, show stopping orange gowns for the 2023 season that we just have to share! 
First up is style 7443. This Jasz Couture look features a plunging v-neckline with thin shoulder straps. The bodice is super fitted and the skirt is made of layered tulle that creates a trumpet silhouette. The entire bodice is adorned with a shimmering orange sequin pattern that will look stunning in photos. This Jasz Couture gown also comes in six other colors if orange isn't your speed! 
Jasz Couture's style 7423 is beaded to perfection and has a fit that will accent your every curve! This gown has a v-neckline with thin straps. The thin shoulder straps make way for an open back that has a lace up tie closure.The lace up ties are adorned with beaded tassels on the ends to make this entire look elevated. We are truly obsessed with the orange color option, but this also comes in dark blue and silver. 
Last but not least is Jasz Couture's style 7411. This style features a wide plunging neckline with spaghetti straps, a sleek fit and a trumpet tulle skirt. The entire gown is adorned with a captivating sequin pattern that shines to perfection! The tulle skirt adorns the gown as well, adding a fabulous dramatic element. This orange look will definitely make you stand out from the crowd!