Our Fall Outfit Inspo!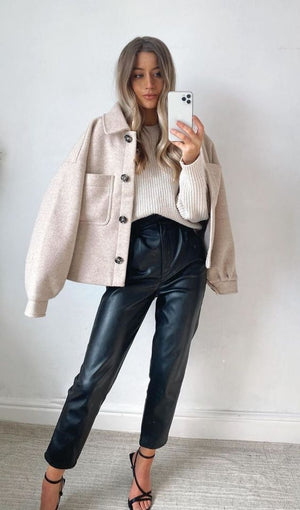 Fall is right around the corner and you know what that means! It means booties, sweaters, layers, and pumpkin spice! Today we are going to showcase some of our fall favorites. With that being said, let's jump right into this blog!
Our first outfit is one of our favorites! This outfit has a tan sweater paired with leather pants. We are loving the leather trends right now, especially the pants. While the sweater and the pants look so trendy themselves, they added a thick flannel over the top to create that layered look. If you want you can swap the heels for a pair of black booties for a more casual look. We love everything about this outfit!
Our next outfit is along the same lines, but with a more street style twist. The outfit consists of a turtle neck sweater, and long brown coat paired with super light khaki pants. This look is semi monochromatic with tan and brown, which we are here for! This outfit is really pulled together by the brown converse and the tan purse. No outfit is complete without accessories!
The last look is a little more on the casual side. Which is perfect for you girlies that are going to school! It is a tee shirt with a fun flannel paired with jeans. She also threw on a pair of sneakers. This outfit can have so many options, whether you change the color of the flannel, shirt, or shoes! We also love the layered jewelry and purse that completes the look. However, if you are going to school, you can always swap the purse for your backpack!