Our Last Minute Halloween Costumes!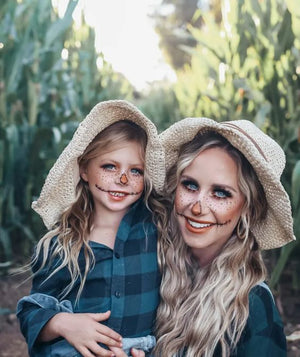 Halloween is within the next few days, do you have your costume together? Today we have chosen a few of our favorite last minute costume ideas. Now, let's get this spooky blog started! 
Our first Halloween makeup look is a clown. There are so many variations of this look, it can be super simple or super complex, it's up to you! You can also add some rhinestones and glitter to add some sparkle! For the outfit for this, you can honestly choose anything! 
Up next is a scarecrow! Most people have everything you need for this costume around the house. The only things you need are some ripped jeans, a flannel shirt, and a straw hat! For the make up all you need is some random stretches on your face, some blush, and top it all off with some freckles! We suggest using eyeliner for the stitches! 
Last but not least is a cat! This look is so easy to do and so classic! To achieve this look we suggest doing a smokey eye, adding some whiskers with eyeliner, and just paint the bottom of your nose black. Now all you need is some cat ears and you're ready to take on Halloween in your super cute outfit!