Our Top Tips for Prom Dress Shopping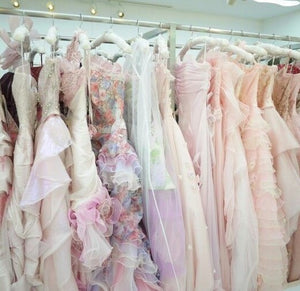 January is slowly coming to a close and prom season is officially in full swing. Have you started shopping yet? Well, no worries if you haven't - you still have plenty of time and we are here to help! We rounded up a short list of ways you can best prepare for your prom dress shopping experience! There are a few things you can do ahead of time in order to help your shopping day go even more smoothly. 
We know that shopping for your most important dress to date can be a bit overwhelming, especially if the store you visit is a bit busy. So, what can you do? Well, it is great to have a little bit of an idea as to what you like. This can be anything from what colors you like to what styles you think fit you best and anything in between. It is perfectly okay to show your prom stylist pictures of gowns you have saved for inspiration, but make sure you are keeping an open mind. You never know what a dress will look like until you try it on, so be open to trying new things! 
Next, we suggest showing up to your shopping experience somewhat put together. We are firm believers that if you look good, you feel good! Why not boost your confidence with something as simple as fixing your hair a bit. We always encourage our girls to come shop with us as their most comfortable selves, just come in with confidence and you will be set! 
You can also be sure you are prepared with the right undergarments, and can also bring a pair of heels if you wish. If you already have a pair of shoes you plan to wear or that you like the height of, you can absolutely bring those in to try on with any potential prospects. We have tons of shoe options and accessories to complete your full look all in one stop, if you wish. Last, and most importantly, have fun!! Prom shopping is not supposed to be stressful - it's supposed to be enjoyable!