Perfect Hairstyles for your Prom Look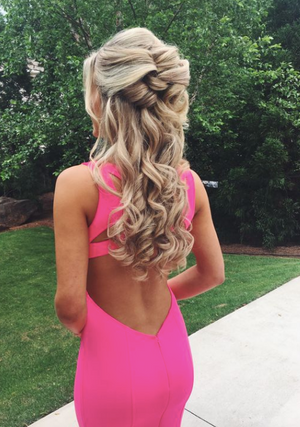 You may already have your prom dress picked out, altered to perfection and ready to go, but make sure you are figuring out the details of your look before the big day. Deciding on your hairstyle for prom night can be difficult, but we are here to help you! One thing to consider first, is the style and neckline of your gown. Let's talk through a few options! 
If you are wearing a high neck or halter neckline, an updo might be the perfect choice. We love a low, messy updo that gives an effortless look. You can add fun accessories like clips, beaded pins, etc to make it look even more formal. Another updo that is fabulous is a curly ponytail like the one pictured. This updo gives off ultimate glamorous vibes, and we are swooning. 
For gowns that are strapless, simple in style or that are spaghetti straps, wearing your hair down is a great option. Loose curls are always a great starting point. From there, you can decide between a half-up, half-down look, maybe a braid to keep the front pieces in place, there are really so many choices! We love how this half up style has a few tucked curls to create a gorgeous, captivating look! 
One of our favorite formal styles channels an Old Hollywood vibe. This hairstyle can pair perfectly with any gown, and what we love most about it is how classic it looks. Lots of smooth curls are the eye-catching feature of this style. Smoothing one side back behind your ear will really accentuate your complexion and show off your fabulous earrings! This look is an all around win!!