Perfect Mermaids by Alyce Paris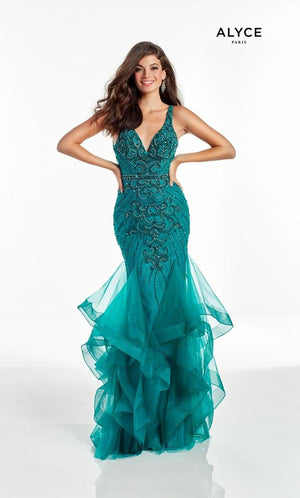 Mermaids are a classic trend to wear to prom. We love mermaid dresses, if you want the best, Alyce Paris has you covered! Now, let's jump right into this blog. 
First up is the Alyce Paris style 60920. This dress is so stunning. We love this lace detailing on the sleeves, bodice, and skirt. Also, the illusion of the bodice is so beautiful. However, our favorite part of this dress is the skirt, because what is a mermaid without a full skirt? This dress comes in the colors black cherry, charcoal, and diamond white. 
Next up is the Alyce Paris style 60923. This beautiful mermaid dress has a plunging neckline with intricate beadwork on the bodice leaning into the full skirt. The beadwork looks so good with the full ruffled skirt. This dress also has an open back. It comes in the colors emerald and wine.
Last is the Alyce Paris style 60924. This dress is such a fun twist on the classic mermaid dress. It has a plunging neckline which compliments the fit of the dress really well. The sparkly fabric is what makes this dress so fun. The ruffles on the skirt really complete the dress. It comes in the colors emerald green and navy blue.