Pretty in Periwinkle by Colette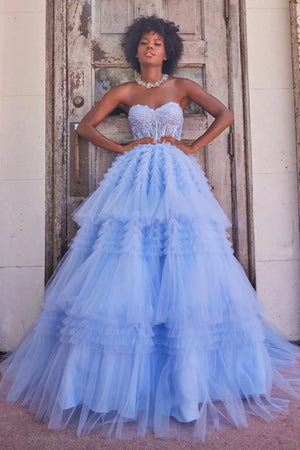 Are you ready for it?! Colette is pulling out all of the stops for prom 2023 and these styles are to die for!! We are swooning and soon you will be, too! One color trend that stuck out to us in this collection is periwinkle. Periwinkle is one of our top color choices for prom, it is such a perfect spring color that makes everyone look vibrant! 
Colette's style CL2010 is periwinkle perfection! This gown is adorned with intricate beadwork and embroidery to create a unique, eye-catching look. The fit is sleek with a sweetheart neckline, thin shoulder straps, and a sleek fit. The back is open with strappy details and a tie closure. 
This ball gown puts every other ball gown to shame - isn't it so stunning?! It is Colette's style CL2017. It features a strapless, sweetheart neckline with a bodice that is super structured. The bodice features shimmering embroidery and beadwork that adorns the sheer corset. This top is paired with a layered tulle skirt with added ruffles. This pairing of the skirt and bodice were made to help you have your grand entrance moment. This gown is truly stunning! 
This next style is a perfect mix of a ball gown and a sleek fit. It is Colette's style CL2009. It is an a-line style with a tulle skirt for added depth. The bodice is a v-neckline with thin shoulder straps. The rest of the bodice is made entirely from lace. This bodice is paired with an a-line skirt with a subtle print underneath. The periwinkle color is gorgeous, but this gown also comes in lilac.