Prom Hairstyle Inspiration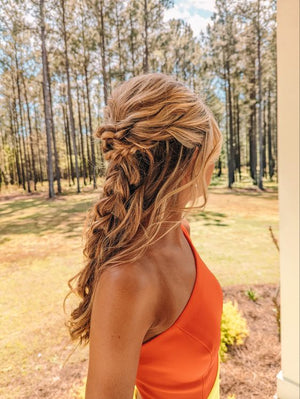 Are you ready to slay at prom 2023?! If you have your dress, now is the perfect time to pick out what hairstyle you want for the big day! We always suggest that our girls wait until they pick out their dress to decide on their hair. You really want to pick the perfect style that will not take away from your gown, and will really make YOU shine! 
We absolutely love a party pony moment. There is nothing more eye catching than a stunning, voluminous ponytail! Wearing your hair in a chic ponytail for prom is great because it lets everyone see your dress and you don't have to worry about your curls falling. Ponytails are perfect for dress styles that have high necklines like halter tops, or that have open and/or strappy backs. Having your hair pulled back keeps you from covering up the unique features of your gown! 
This season brought a lot of one shoulder dress styles. So the question then is, how do you wear your hair?! Well, lucky for you there are so many styles that look fabulous with a one shoulder, asymmetrical neckline. Here's a great example of what a half-up style will look like with a one shoulder gown. We love that this style keeps your hair out of your face and that you can keep your hair back or put it over your shoulder. This look also features a fishtail braid which is so fun! 
Another thing we have been seeing lately is pearl and diamond details as hair accessories. These are adhesive little pearls and stones that can be added to your hair anywhere! A lot of girls choose to put these around the front of their hair as it is slicked down. They can also be added anywhere in your hair whether it is down, in a bun, ponytail, etc.