Red Carpet Fashion from the Grammy's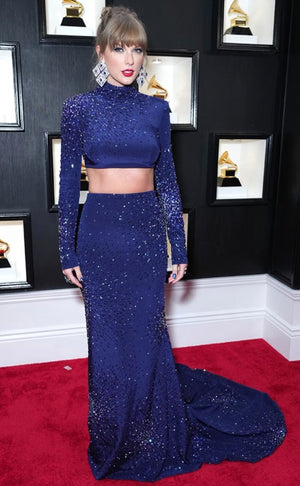 Award show season is in full swing and we are loving seeing all of the celebrity red carpet looks. The Grammy's was a little over a week ago and we are still swooning over some of these high fashion moments. We rounded up some of our favorite looks from the music award show to show you! Did you have any votes for who you thought was best dressed? 
 First on our list is our girl, JLO. Jennifer Lopez came to the Grammy's ready to slay and that is exactly what she did. The pop icon wore a fabulous navy blue bodysuit with a plunging neckline. The bodysuit was accompanied by lots of ruffles, sheer fabric, and silver accents to set this look over the edge. The silver jewels adorn the sheer sleeves and silver fringe details hang down from all angles. The skirt features layers and layers of fabulous ruffles to add a dramatic effect. 
The queen of the Grammy's, Taylor Swift graced the red carpet looking as radiant as ever and we could not be more obsessed. Taylor Swift strutted across the red carpet in a high-neck, long sleeve crop that is entirely adorned with shimmering beadwork. The high waisted skirt has a sleek fit with a long sweep train. The skirt is also adorned with beadwork throughout that shimmers and sparkles to perfection. Her look was made complete with her hair in an elegant bun, bold statement earrings, and a bold red lip. 
Another red carpet look we loved was from Cardi B. Cardi B stepped out on the carpet in a style that was different from her usual ensembles. This electric blue gown is crafted from a satin-like fabric that has a gorgeous natural shine. The dress has a lot of draping details with a side cutout and long train. The gown was also adorned with statement elements on the shoulders around her head. The look was a real head-turner and the color looked phenomenal on her!