Red Carpet Fashion from the Oscars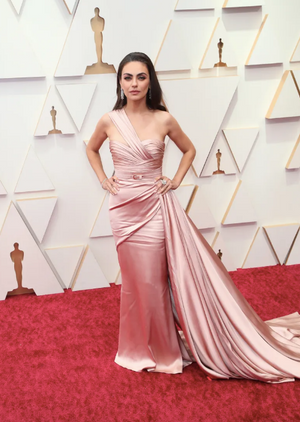 April is officially here and prom weekends are coming up so soon!! While we are in the spirit of formal wear and looking fabulous, we have to talk about the latest Red Carpet trends and sightings. Award show season has kicked off, and we are here to show off some of the most head-turning looks that have graced the red carpet. The Oscars aired just a few days ago, and there are several looks we just have to chat about! 
First things first, we all know that feathers are making an epic comeback and we have seen them everywhere this prom season - they are just so fresh and fun! Feathers also made a debut on the Oscars red carpet. Maya Rudolph served a bright, bold, feather-embellished gown as she made her entrance into the event. The feathers add so much drama to her gown and the color is just swoon-worthy!
Mila Kunis also graced the red carpet in a stunning blush-colored gown that gave us immediate heart-eyes. Her couture gown featured an asymmetrical, sweetheart neckline with lots of draping details. The fabric has a gorgeous subtle shine that gives off ultimate glam vibes. The look is made complete by a long, dramatic train coming from the hip - we are totally obsessed with this look! 
You girls know we loveeee a lilac moment and Jessica Chastain absolutely understood the assignment with her Oscars gown. The bodice of her gown has a v-neckline, adorned with gorgeous golden sequins that fade into lilac sequins and lilac skirt. This ombre look shimmers to perfection, and the skirt is made complete with ruffled layers along the hem. This gown is oh, so glamorous!