Red Carpet Looks from the Grammys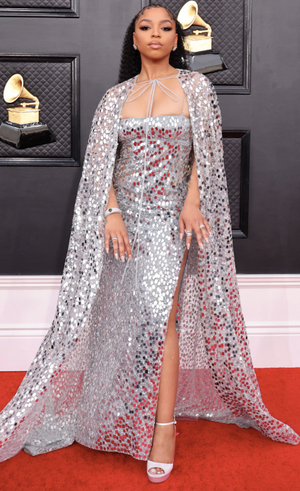 We're back with more red carpet looks - this time from the 2022 Grammy Awards! The Grammy's took place in Las Vegas a few days ago and we are still swooning over the looks that were served. Are you ready to see some of our favs?! 
Kelsea Ballerini never fails to look absolutely stunning at award shows, events and her concerts. Her looks are fun and flouncy, while also keeping a classic feel. For the Grammys, Kelsea chose a classic little black dress with a real statement element. The straight, strapless gown is super sleek, and has a high slit to show off her long legs and simple black heels. The real eye-catching feature of this gown is the large white, shimmering bow that drapes across the waist. 
Chloe Bailey was shining like a diamond on the Grammys red carpet! Her look featured a sleek, straight neckline gown with a high side slit and mirror embellishments. Her silver gown was taken to a new level with the matching cape, completely adorned with mirror details, as well. The cape tied right at her collar bones and drew much attention to her flawless makeup and sleek hair. Chloe absolutely slayed this look and we are here for it! 
Olivia Rodrigo was a major winner at this year's Grammys, and took home several awards for her debut album. Her red carpet look was ultra fierce. She rocked a black, off-the-shoulder, super fitted black gown with pink and silver stone embellishments. She took her look to the next level with two choker necklaces, long black gloves and smooth wavy hair.