Ruffle Details from Sherri Hill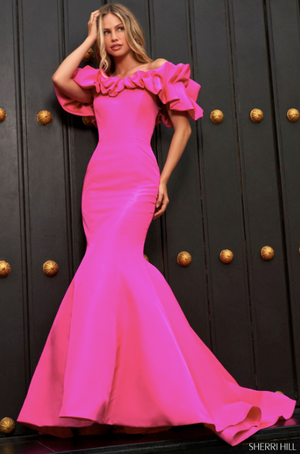 Are you looking to make a statement at your next formal event? Do you want to turn every head when you enter the room?! Well, if so, you are in luck because Sherri Hill has brought her A-Game to her Spring 2022 collection. One trend we have been loving is the epic comeback of ruffles! Let's jump in and take a look at some of these gorgeous looks! 
Sherri Hill's style 55032 is a stunning mikado a-line gown with ruffled details across the neckline. The bodice has a v-neckline, accompanied with layers of ruffles. The skirt has a high slit to really set this look over the edge. This simple mikado look gives you much room to accessorize - pair it with some shimmering earrings and some fabulous pumps and you will have a killer look! 
Another Sherri Hill stunner is style 54807. This gown is fabulously trendy and we could not love it more! It is crafted from taffeta material that is very fitted, and has a gorgeous shine. The neckline is strapless and off the shoulder, adorned with flouncy ruffles that take this look to the next level. The rest of the gown is sleek and flows into a gorgeous trumpet-skirt mermaid.
Last but not least is a fun two piece number - Sherri Hill's style 55014. This gown brings back the super cute color-blocking trend that Sherri Hill always does so well. The crop is sleek and simple, with an off the shoulder neckline and gorgeous ruffled sleeves. The skirt has a fitted mermaid style with a high side slit to showcase your shoes! The grown is crafted from mikado fabric, so the fit is unmatched and the natural shine is absolutely beautiful!