Thanksgiving Hues with Rachel Allan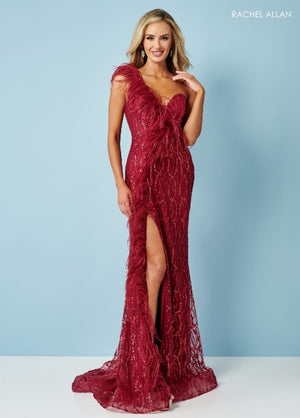 Happy Thanksgiving!! There is so much we love about this special holiday. Spending time with family, the delicious food, football games, optimal nap time, etc! There is so much to celebrate today so make sure you take time to give thanks! Since it is a special day today, we are showing off our favorite Rachel Allan looks that are in turkey day colors. Think golds, reds, oranges, all that good stuff! So, let's jump right in!
First up is a fabulous number by Rachel Allan, style 12211. This look is the definition of dripping in gold. It is the ultimate swoon-worthy look! This shade of gold is just next level! This style features a halter neckline with thin straps and a sleek fit. It has a straight silhouette with a high, wide slit over the left leg. The look features beaded fringe throughout that set this look apart from all of the rest. Plus, beaded fringe is such a hot trend this season! 
Rachel Allan's style 70402 is a fan favorite and we cannot wait to see this one on our Formal Approach Girls at prom 2023! This stunning look features a sweetheart neckline with one single feathered shoulder strap. The feathers cascade down the dress for such an elevated element. The dress has a sleek fit and a horsehair hem skirt for a subtle flare. The entire gown is adorned with shimmering beadwork and glitter to really take it over the top! 
This last look is like a breath of fresh air! We have never seen anything quite like this one. The bodice is sleek and satin with a strapless neckline. It has puff statement sleeves that are detached from the bodice so you can adjust as needed. This orange crop is paired with a fully sequined fuchsia skirt. This shimmering piece really compliments the orange crop. It is made complete with a high slit over the left leg. Truly stunning!