The New New from Alyce Paris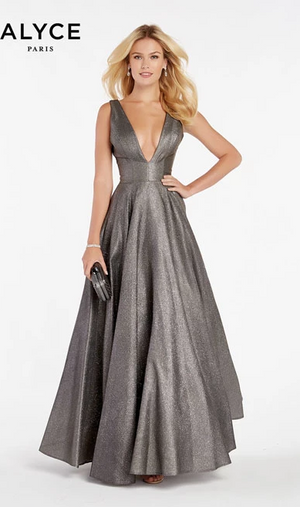 It's time to SHOP! Everybody loves a little retail therapy, and what better time to do some shopping than when it's starting to get chilly outside?? And the best news is… we're getting in new dresses every single week! We wanted to give you a sneak peek at some of our favorite new looks from one of our favorite designers to make your shopping even easier. Here's a glance at the newest looks from Alyce Paris!!
Style 60563 has all the glitter you need, girl! This A-line gown has a fit that is universally flattering paired with a trendy plunging neckline. The metallic gray material is covered in sparkle, so you are sure to be shining all night long!
A fall favorite is style 60532. This deep cherry is the perfect color for an autumn vibe! This dress has a sweetheart neckline and a glamorous off-the-shoulder cut. It is covered in beautiful beading, and the high slit is the cherry on top!
Style 60516 is for all of our trendy girls! This style took the top trends for the season and put them all together for one very fashion forward dress. A layered skirt twirls around the bottom with ruffles and swiss dots that give this black ball gown a trendy textures look. The straps tie in a bow for a completely cute and customizable look!
For more new new from Alyce Paris, check them out under our Designers tab or shop with us in-store!!