The Red Lipstick Classic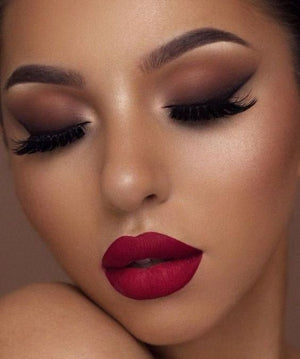 It's red season, y'all, and we know the story all too well. You're bringing out all the red accessories and allll the red lipsticks! But wait! We need to update our red lipstick looks. So let's begin again and look at some of the best red lipstick looks.
First up is the classic cherry red lipstick. This look is so perfect for the holidays! With all of the Christmas parties coming up, this lipstick will be a staple this holiday season! This look is bold, but beautiful! This would work with any type of lipstick whether it's matte, shimmer, satin, or a glossy look!
Up next is a more pinky red for those of us who do not want bright red. This color is perfect for you ladies who don't want to go for an intense look. It is still definitely red with a subtle pink undertone. This color with a shimmer gloss over top would look so stunning on any skin tone! 
Our last lipstick is a deeper shade of red, if bright red isn't for you, this color is perfect! This color is on the deeper side, which we are obsessed with! If we were going to wear this shade, we would choose a matte liquid lip and pair it with a bold eye look! We love all of these shades and we know they are all Taylor Swift approved!