Treat Yourself for National Sundae Day!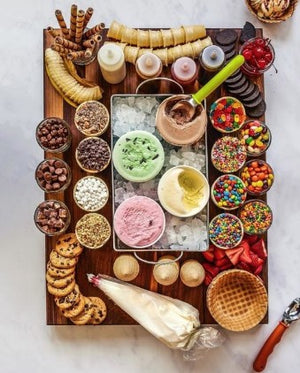 Who ever said ice cream is only for warm months? Not us!! Today is officially ice cream sundae day and we encourage you to celebrate accordingly! There are so many ways to enjoy this super sweet holiday, so we threw together some inspo for your FriYAY to get even better!! 
What we love about ice cream sundaes is that they can be made into whatever you want, with whatever toppings you choose and can include as many things as you can possibly fit! You can easily run out to the grocery store and grab things for homemade ice cream sundaes, or you can treat yourself to one at a restaurant - the options are endless on a special day like today! All you need for at home sundaes are: your favorite ice cream, chocolate or caramel syrup, cherries, whipped cream, and anything else your heart desires. 
You girls know we are always here for a themed charcuterie board, and that holds true even when we are chatting about ice cream! Make the day fun and invite your girls over for a little ice cream sundae party! An ice cream sundae board is super easy to throw together once you gather all of the possible ingredients. You want to make sure that your board has several options so everyone can make a top notch sundae. Throw in some candies, fruits, cones, etc! 
If you are not an ice cream sundae girlie, that's totally okay - we will still let you celebrate with us! Any kind of ice cream treat will pass for this fun Friday! A simple scoop of your fav flavor will do, but how cute are these ice cream cookie sandwiches?! Andddd this lets you enjoy several desserts in one! Two cookies with ice cream in the center are all you need for this one. To jazz it up even more, you can roll the sandwiches in chocolate chips, any candy, or sprinkles! Happy weekend, friends!!