Turkey Day Decor for November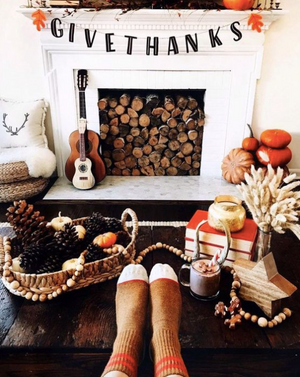 This first week of November sure has us in the holiday spirit! Can you believe Thanksgiving is only a few weeks away? While you still might have your Halloween decor up, you can easily transition into a Thanksgiving vibe. We rounded up some of our favorite fall decor that sprinkles in some turkey day fun! 
First things first, keep your pumpkins! As long as your pumpkins are not carved and still look like they are in good shape, hold onto them! Nothing makes it feel like a cozy Thanksgiving quite like pumpkins! The fall porch decor can stay, but maybe go ahead and pack up the jack-o-lanterns and ghosts. We feel like Thanksgiving is a more elevated holiday, where we jazz up our fall spread to be a little fancier. 
Since you're keeping your fall porch or outdoor set up, also keep your mini pumpkins if you have them, or run out and grab a few. Mini pumpkins are a super simple way to jazz up the Thanksgiving tablescape. Whether you are helping your parents set up a nice holiday dinner, or you are prepping for a friendsgiving of your own, these little pumpkins will wow all of your guests! 
We love that Thanksgiving decor can be whatever you want it to be! Add some greenery and candles to your table area and sprinkle in a few mini pumpkins and you will look like a holiday pro! We also love adding in some subtle turkey decorations here and there, which you can probably find for an incredible deal right now wherever you like to shop! To make things a little more personal, you could print and frame some family or friends photos (depending on who you are hosting) and place them scattered around in frames to show off what you are thankful for this year!