92nd Annual Academy Awards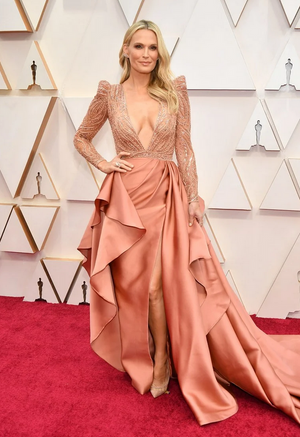 Up next on our Award Show coverage is the 92nd Annual Academy Awards. The Oscars took place last night, and we are still swooning over the epic looks! Lots of fabulous fashion graced the Red Carpet as Hollywood's biggest stars made their grand entrances. But the after parties are also where to find the stars serving up looks - so let's dive in and chat about a few of our favs! 
    Starting with the red carpet, Scarlett Johansson stole the show in her stunning champagne gown. It featured a scoop neckline, exposed boning on the bodice, and lots of embellishments. Small chain-like beading cascaded across the bodice and a few pieces even hung down to the floor. The coordinating skirt was satin, fitted to perfection and had a gorgeous sweep train for extra drama. Total heart-eyes for Scarlett with this iconic look. 
    Another look we are loving is this stunning ensemble on model, Molly Sims. This look has it ALL. A deep plunging neckline, dramatic long sleeves, a fully beaded bodice, and ruffled skirt - and more! This muted mauve/coral tone looked fabulous on the blonde bombshell. This look brought sparkle, spice, and drama; perfect for a night as big as the Oscars. 
       Okay, let's talk about the after party fashion. The Vanity Fair after party is
the
party to attend with a long list of A-List guests. Some of our favorites from the evening were: Kerry Washington in a fully sequined two-piece number; Cynthia Erivo in a gorgeous lavender and teal gown; and Jessica Alba in a full beaded nude and silver ensemble.