Happy Valentine's Day, Loves!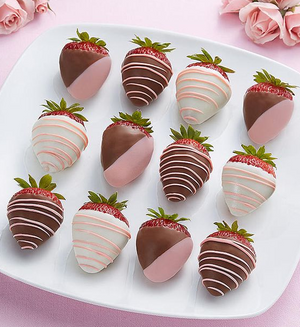 Happy Valentine's Day, Loves! Whether you are spending today with your Valentine, or going for a night out with your Galentine's, we hope you feel so loved today! Valentine's Day brings all of our favorite things: candy, cute nails, lots of sweets, and all things pink! 
    Valentine's nails and outfits are so much fun and we love being festive! There are so many cute ideas for V-Day nails, so pick your fav and treat yourself to a mani! With festive nails, you need a festive look. Pink, red, white, whatever you are feeling will look fab! 
As far as treats go, the possibilities are endless! Chocolate covered strawberries are always a fan favorite - you can pick these up from your local market or make them yourself! There's nothing quite like a DIY project to get you in the spirit of a holiday. If you aren't a strawberry fan, you can go for cookies, or rice krispies - throw in some pink and red candies or icing and you will have a perfect Valentine's treat! 
Looking for a last minute gift? We've got you! For your gal pals, it's super easy! Pick up some candy, maybe some self-care items like a face mask, bath bomb, etc - it doesn't have to be over the top! For your guy - candy is always a solid start. Throw in a gift card to his favorite store or restaurant and you are set! We hope today is full of love, yummy treats and good times! Take time to treat yourself today and make this the best Valentine's Day yet!