A Round Up of Trendy Summer Accessories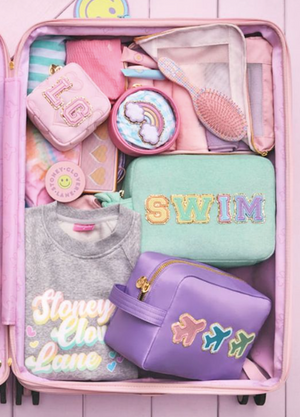 We have loved all of the fabulous fashion that has been trending this summer! All of the bright colors and trend setting outfits will be hard to beat for summer seasons to come! While we have chatted about fashion and shoe trends recently, we wanted to take today to round up this summer's hottest, most sought after items that will definitely be in high demand come Fall. 
First things first, we aren't sure a tumbler cup classifies as an accessory, but that's what we're going to call it. The Stanley Cup, the 40oz, has been nearly impossible to find in stores and sells out online in a matter of minutes after each restock. Influencers everywhere have raved about the huge tumbler cup, explaining that it's the best because it has a straw and a handle. We can vouch that once you get your hands on a Stanley Cup, it becomes an emotional support item that has to go with you everywhere! So, stay on high alert for their next restock to grab your own! 
The belt bag took over the summer and we will never look back. The belt bag, specifically the one from Lululemon has been an insane trend that has taken off this summer. Several brands make them now, so there are so many options to choose from. From high end designers to casual stores like Walmart and Target now carry their own versions. It is worn either as a fanny pack or a cross-body, and the little pouch holds all of the necessities. We are true belt bag fans over here!
Alright, y'all. Now let's talk about THE collaboration of the summer: Stoney Clover Lane x Target!! Stoney Clover Lane makes the most adorable pouches, bags, duffles, and apparel and you can customize each piece with their signature patches. This summer, they teamed up with Target to release an exclusive collection that would be more cost effective. The line was nothing short of amazing! You could find apparel, dog accessories, tumblers, pre-embellished pouches, and more! This collection brought so much color and life into our summer - we could not have loved it more!!