Gorgeous Jewel Tones from La Femme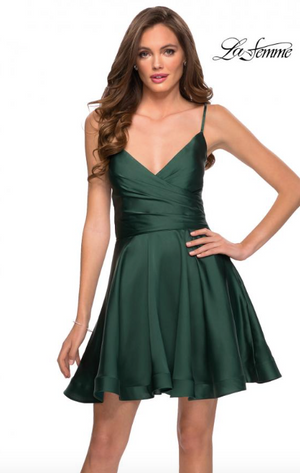 We're back and ready to serve up some fabulous homecoming inspo! La Femme is always one of our go-tos when it comes to homecoming fashion - they always have a gorgeous array of options! It's no secret that we love a sparkly homecoming look, but we also love some simple numbers that are all about the fits! 
La Femme's style 29262 is an absolute stunner! This cocktail length number features a v-neckline, thin shoulder straps, and a scoop back. The entire look is adorned with ruching details from top to bottom, which add lots of texture and will be a real eye catching element. The jersey material creates a beautiful, fitted silhouette, while also giving off a natural shine. This look comes in either Dark Berry or Navy Blue, you cannot go wrong with either! 
We can always count on La Femme to give us a fabulous fit and flare look! La Femme's style 29242 is a classic fit and flare look, that we just love for homecoming festivities. It features a v-neckline, thin shoulder straps, a wrap bodice and flouncy skirt. The wrap bodice adds ruching details, which pairs perfectly with the flowy shape of the skirt. There are several color options in this one, choose from: black, emerald, navy, royal blue or wine. All beautiful jewel tones! 
Last but not least is one of our favorite looks from La Femme's homecoming collection: style 30974. This strapless cutie is simple, yet super sleek and gives you creative freedom to accessorize! The strapless neckline is accompanied by a structured bodice, ruching details and a trendy cutout slit. The jersey material gives you a smooth, gorgeous appearance and you can accessorize however you please!