Aleta's Neutral Looks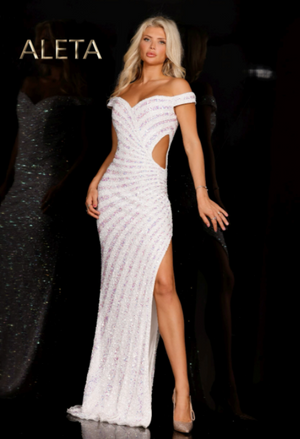 Happy Thursday, friends! We are back and ready to chat about some of our favorite bedazzled gowns from Aleta. Aleta gowns are always recognized for their head to toe embellishments, intricate beadwork and super sleek silhouettes! The number of fabulous styles in this current Aleta collection are endless, but we found a few neutral favs that we want to show off today! 
First, let's talk about Aleta's style A107. This gown features several of this year's hottest trends and we are loving it! It features a wide sweetheart, strappy neckline, a sleek fit, side cutouts and an open back. Cutouts are one of the biggest new trends we have seen this season, they have made such an epic comeback! The strappy details along the neckline add extra spice, and the beadwork pattern adds even more flare to the look. The beadwork on this one features an ombre pattern that is so fun! 
This next neutral stunner is Aleta's style 647. This fierce gown features a sweetheart, off the shoulder neckline with a sleek bodice, side cutout and high side slit. The entire gown is adorned with intricate beadwork in a stripe pattern for an eye-catching element. The color options for this look include: charcoal multi, cherry red and ivory irid, which is pictured here! Every color option is truly stunning! 
If you are looking to shake things up for prom or homecoming, Aleta's style 610 may be just what you are looking for! This fiery jumpsuit will have you looking and feeling like the ultimate queen! This jumper features a plunging v-neckline, thin shoulder straps, an open back, and wide leg pants. It is embellished in true Aleta fashion, with head to toe shimmering beadwork. This is truly a statement piece!