Best Dressed from the Met Gala 2022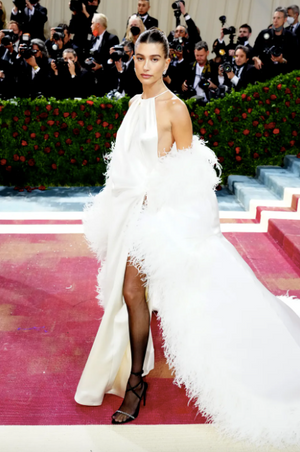 Hello, FriYAY! We sure are excited to welcome back the weekend! This week was a busy one that started off with a bang Monday night with THE event - The Met Gala! The Met Gala is best known as the first Monday in May, where the celebs bring their ultimate A-game to dress for a specific theme each year. The 2022 theme was "Gilded Glamor" and the a-listers did not disappoint! The fashion for the Met Gala is truly next level, and we could not wait to show off some of our top picks for Best Dressed. 
Starting off with our red carpet queen, Blake Lively. Blake Lively never misses when it comes to red carpet glam and she had everyone swooning over her Met Gala look. Blake Lively was one of the co-chairs/hosts for the Met this year, and her ensemble showed off exactly why. Her gown was a nod to New York City with elements that channeled the Empire State Building, the Statue of Liberty and more. Her initial look featured a lot of rose gold, mauve hues with a large over skirt, train and bow-like detail along the waist. This quickly transitioned into a gorgeous second look as the golden overskirt was let down and showed off a gorgeous aqua hue. We could not love this look more if we tried!! All hail, Queen Blake! 
Hailey Bieber also graced the red carpet on the steps of the Met looking chic and glamorous as ever. With a high, halter neck satin gown, high slit showing off her stockings and heels, Hailey brought the glam, for sure. She added the "gilded" element with a fabulous draping overcoat, covered in eye-catching feather details. Her middle part, slicked back bun hairstyle added even more to her look and really showed off her ensemble. She looked stunning, per usual! 
Kim Kardashian was another highly talked about Met Gala icon. She brought in an old Hollywood vibe and viewers could not get enough! Kim actually wore the late Marilyn Monroe's nude, fully embellished, sleek gown that Marilyn wore while she sang to President John F. Kennedy. This gown is truly a piece of American history and it was so fascinating to watch it make a red carpet debut all these years later. Kim also wore a white fur coat draped off her shoulders, and her hair was bright blonde and slicked back into a bun. This look will be talked about for years to come!