Aleta's Stunning Embellished Gowns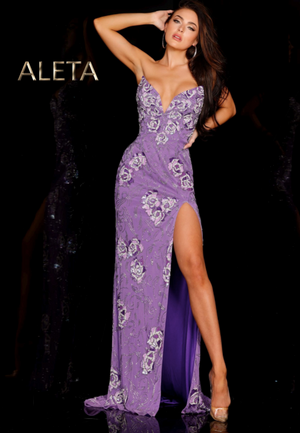 Aleta gowns are about to be your new obsession! These looks are cutting-edge, trendy and unlike any others out there. Aleta intricately embellishes each gown with fabulous beadwork, sequins, and stones; sparing no details and crafting each dress to perfection. These beaded numbers are just what you need to consider to shine your brightest at prom 2022. 
First, let's look at Aleta' style 624. This dress has a little bit of everything all rolled into one dress. With a unique fit, fabulous beading, and floral details, you will not see another gown like this out there! This gown features a v-neckline, billowing sleeves, a sleek fit, and a high slit. The entire gown is adorned with golden sequins and beads for a shimmering, but neutral base tone. On top of those embellishments, the gown also features floral branch-like details. The combination of all of these features sets this dress over the top! 
Another floral-embellished look is Aleta's style 629. This look is super sleek and the fit is stunning! It features a plunging v-neckline, with pointed details and a high slit. The entire gown is adorned with rhinestones, beadwork and embroidered flowers. This look comes in three color options, all gorgeous spring hues! 
While we love floral embellishments, we love when designers go for fresh, trendy embellished details to really set their designs apart! Aleta's style 625 brings in some fresh and fun details, as it is embellished with multi-colored stars! The style is simple, it has a strapless sweetheart neckline, a-line shaped skirt and high slit. The entire gown is beaded with sequins, and the bodice is entirely adorned with stars, that continue to cascade down the skirt. We love a unique look like this!