Galentine's Party Inspo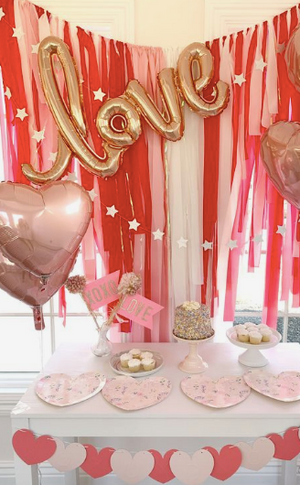 Hey, hey, February! The month of love has officially begun and we are loving all things red and pink! Get ready to get in the festive Valentine's spirit, we are here to help you plan the ultimate Galentine's girls night! No Valentine needed, just your gal pals or even the ladies in your family - grab your mom, sister, grandma, it doesn't matter, just invite whoever you'd like! Now that we have chatted about the guest list, let's get into the super fun stuff - food and decor! 
Okay, we know that no party is made complete without good food and snacks! We love incorporating activities into parties to give everyone something to create together. So, we found the cutest heart-shaped pizzas that can make for inspo for your build-your-own pizza station! Shape the dough into hearts and have lots of topping options for everyone to make their pizza of choice! No Galentine's event is complete without desserts and lots of sweets! Make a sweets / dessert spread to add lots of color and Valentine's vibes to your party! 
Now that we have chatted about the food, let's talk about decor! It does not have to be super extravagant to be adorable and enjoyable! Your food will bring lots of color and life to your party, but you can always add more decor if you would like! We love these XOXO balloons, which are just one of the options when it comes to balloons. You can do a balloon garland, balloon hearts, etc. These make for large decor pieces, as well as double as fabulous photo backdrops! 
Another fun aspect to consider for your Galentine's get together, is an activity! Board games are a great, very inexpensive option to get everyone involved and having a good time. Another interactive activity would be completing a small canvas painting together, this can be so fun and offers everyone to get creative! One more idea we came across was making your own floral arrangements! This gives you an activity, as well as something beautiful to take home! You can always have your guests bring items needed for activities to lessen your stresses!