Stand Out in Hot Pink by Nicole Bakti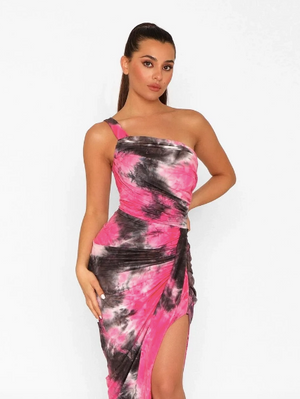 The Valentine's Day countdown is on! You officially have 4 more days to get the candy, gifts and cards you need! Since we are in the Valentine's spirit, we wanted to show you some fabulous pink numbers from Nicole Bakti! Let's get to it! 
We are starting off simple with Nicole Bakti's style NI1027. This hot pink number is bright and bold! It is the perfect prom style that will make sure you are shining bright. It is simple in style, but the fit is gorgeous! It features a deep plunging neckline, halter neckline, and high slit. The back is open with strappy details, as well as ruching down the back. While we love this neon pink hue, this style also comes in red and royal! 
Next up is a one of a kind, trend setting number that would help you make the ultimate splash at prom 2022! It is Nicole Bakti's style NI1034. Tie dye is all the rage right now and Nicole Bakti has brought the trend into their newest collection for 2022. This look has an asymmetrical style, with one shoulder strap and a high slit on the opposite side. The fabric is a stretchy material, so the fit is gorgeous, and it has lots of ruching, draping details to add some added embellishments. The color scheme in this tie dye number features black, gray, hot pink and white. 
Last but not least, is Nicole Bakti's style NI1030. This look is super unique and is embellished to perfection. It features a straight, strapless neckline, mermaid fit and lots of embroidered details. The base color of this one is hot pink, and it is adorned with white embroidery patterns throughout. This look is fabulous for spring formal events!