Valentine's Day Sweets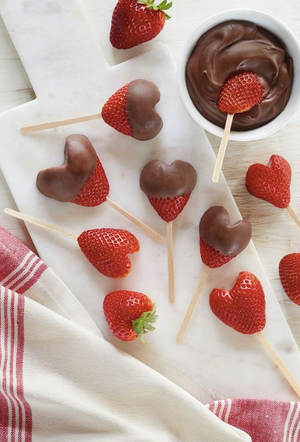 'Tis the season for alllll the sweets and treats! There are a couple more days until v-day, so we wanted to round up some tasty treats that you can DIY at home to get in the festive spirit! You can make anything from cookies, cakes, fruit, etc festive and in the spirit of this red and pink day!! 
First up, cake pops and truffles!! We don't know about you, but when we loooove to grab a cake pop anytime we take a trip to Starbucks; they are just so tasty!! The great thing about cake pops is that you do not have to deal with baking and icing an entire cake, and they are SO much easier to serve and eat!! Truffles are super similar to cake pops, so just go with whichever recipe you prefer! Decorate your cake pops with red pink and white icing, heart sprinkles, and you will have a super cute, tasty treat! 
It is no secret that this is the season of eating chocolate covered strawberries. This is a super simple, yet so delicious treat that you can make in a matter of just a couple hours. There is so much you can do in regards to making them even more festive. You can go with plain milk or white chocolate. Additionally, you can add colored icing with food dye, or sprinkles. Cutting the strawberries into hearts is another extra touch you can add to make your treats extra special! 
This one is for the chocolate lovers! Everyone loves a good chocolate chip skillet cookie, so we are taking it up a notch to make it Valentine's ready! All you need for this one is chocolate chip cookie dough and red and pink candies - we suggest M&Ms! Spread your cookie dough into a cookie sheet or a cast iron skillet, to make a layer. Bake as directed, and then as soon as you get it out of the oven, push in as many candies as you would like and then let cool.