Portia and Scarlett's Beautiful Ball Gowns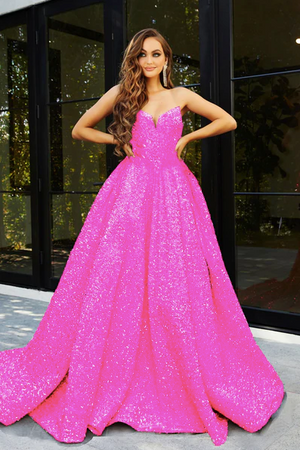 One thing that we love about prom season is the plethora of styles, fits, colors and patterns that are introduced each year. There are so many options and unique looks you can go for, and we love that this time of year lets our girls choose the perfect gown that fits their personal style. Portia and Scarlett have a wide range of fits in their current collection, and we are obsessed! We wanted to highlight one style that may not be on your radar - ball gowns! 
Portia and Scarlett are known for making a statement, and these ball gowns do just that! First, let's take a look at Portia and Scarlett's style PS22030. This gown was made to make you feel like royalty. It features a straight neckline, an asymmetrical strap and fully beaded bodice. The bodice flows into a large ball gown skirt, not to mention the lilac blue is just fabulous! 
Did someone say full sequins?! Fully sequined and beaded numbers have been all the rage in recent seasons, because who doesn't love to sparkle?! Portia and Scarlett have exactly what you need if you are wanting a fully sequin look. This ball gown, style PS21208B is the definition of fabulous. It features a sweetheart neckline with pointed edges, sleek bodice and large ball gown skirt. The entire gown is adorned with beading and sequins to give you the ultimate glam look! 
Another look we love is Portia and Scarlett's style PS22037. This is another fully embellished number, and it shimmers and shines like no other! It features a plunging v-neckline, as well as a v-cut back. The color of this one is Cinderella Blue, which could not be more fitting. This gown was made for a princess!