Alyce Paris' Shimmering Styles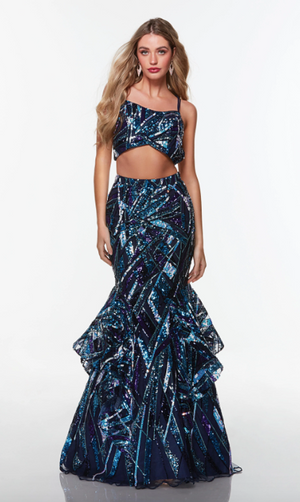 Alyce Paris' spring and summer collection is full of absolutely stunning styles that are sure to make you look and feel your best at your next event. We have chatted about several of Alyce Paris' fabulous gowns, and we have more to add to the list! These gowns we want to showcase today are all in the blue family, and we are swooning over their unique elements.
First, let's chat about Alyce Paris's style 61275. This gown is a signature Alyce Paris look. It features a plunging neckline, thin spaghetti straps, and a sleek, straight fit. The skirt is made complete with a high slit. The entire look is adorned with head to toe sequins for a gorgeous sparkle. The back is quite open, and is embellished with strappy details and a lace up tie. This gown is such a staple piece for Alyce Paris and we are loving it! 
This next gown is entirely unique and we cannot wait to see one of our girls rock it to their next event! It is Alyce Paris's style 61276. This two piece number has several things going on to make it so unique and fun. The crop features a subtle scoop neckline, v-cut bottom and tons of strappy details across the back. The high waisted skirt is sleek through the hips and then has ruffled layers along the trumpet skirt. The entire gown is adorned with sequins in a lined pattern, incorporating navy, light blue, teal, etc. This gown is truly so fun! 
Alyce Paris's style 61281 shimmers to perfection! This simple fit and flare gown is adorned with beadwork covering a sheer tulle fabric. The fit of the gown features a v-neckline, straight style and subtle sweep train. The back is also a v-shape with thin spaghetti straps. This sparkly number comes in six different color options, so you are sure to find something you love!