CMA Fest Outfit Inspo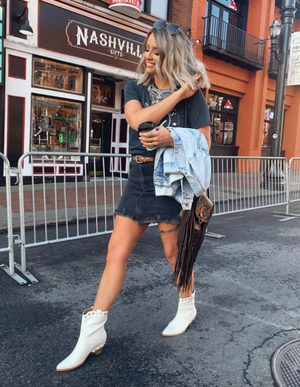 There truly is something special about summers in Tennessee! There are so many events and things to do here this time of year and we cannot contain our excitement! Next week, the famous CMA Fest several-day-long country music festival will kick off in Nashville! Are you headed to Broadway to get in on the country music fun?! If so, we rounded up some of the most fabulous, Nash-Vegas inspired looks to help you plan to look like your most fabulous, rhinestone cowgirl self for all of the star-studded events! 
One thing we love about CMA Fest is that there is a huge range of possibilities when it comes to fashion! So you can really make your outfits your own. We love a classic band graphic tee, or a super cute Dolly Parton-inspired tee to pair with your tried and true denim shorts or a fabulous skirt. It's important to remember that you will be outside for the majority of the concerts, and the Tennessee heat is no joke! So, make sure to wear something that will keep you relatively cool so you can enjoy yourself! 
Keeping up with the trends, we have to chat about several that we cannot wait to see at CMA Fest. Western inspired fashion is everywhere right now, which is perfect timing for such a huge annual event like CMA Fest. Fringe is a super hot trend right now, and would be perfect for your CMA plans! Whether you are going for fringe details on a skirt, a denim jacket for night time or even your accessories, you can't go wrong! We have been seeing lots of bandanas with fringe to spice up your fit, as well as small cross body bags with fringe detailing. 
If you are in need of some more inspo, look up your favorite stars' concert looks. We love to look at artists like Carrie Underwood, Kelsea Ballerini, and Miranda Lambert to get inspo for our own outfits! You really can wear whatever makes you feel your best! We say you can never go wrong with denim, fringe, or rhinestones. Oh, and don't forget your best boots and a western hat!