Be Bold in a Rachel Allan Neon Pink Number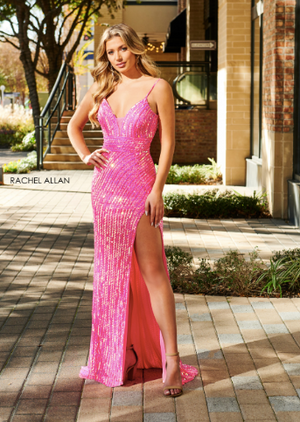 Now is the perfect time to start your search for the prom dress of your dreams! It is great to get started early when it comes to prom shopping so you have lots of options to try on in store to get a feel for what styles, colors and overall looks you are loving. The dress is definitely first priority, accessories like jewelry and shoes can be added later, no problem! This season is full of hot trends that will definitely help you stand out. One trend we have been seeing in Rachel Allan's collection is NEON! 
Bright and bold are two words we would definitely use to describe Rachel Allan's style 70138. This look is fabulous!! It is a trendy two piece number with long sleeves and a sleek straight skirt with a train. The crop is super sleek, and features silver stones around the neckline and cuffs of the sleeves. The skirt pairs perfectly, as it is high waisted, has ruching details, and is finished off with a high slit. We are obsessed! 
Another neon number is Rachel Allan's 70166. This fully beaded style is what prom dress dreams are made of! It features a sweetheart neckline, super sleek fit and high slit. The entire gown is crafted from beaded tulle that has a gorgeous iridescent shimmer. This style comes in neon pink, and six other colors!! Such a stunning look! 
Rachel Allan's style 70130 is giving us major Barbie vibes! This hot pink ball gown features a sweetheart neckline, thick waistband and a full flowing skirt. The back is open, with lots of strappy details. The entire gown is covered in shimmering sequins that give this look an iridescent flare. You know we love the pink, but the purple, tangerine and blue color options are gorgeous, too!