Beach Bag Essentials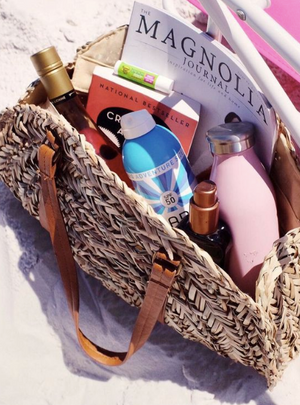 Happy Saturday! We hope today is full of lots of fun and sunshine! With these gorgeous sunny days, we are more than ready to spend all of our time by the pool or on the beach -- how about you?! We are ready to catch all of the rays and get some much needed relaxation! With that said, we thought it would be a great time to talk about some must-have products for your pool or beach bag! You can never be too prepared! 
First things first, you have to find a super cute bag! We say, the bigger the better so you can hold all of the goodies! A few obvious items to snag for your bag include little things like: sunscreen, lip balm, sunglasses and your pool towel. You want to make sure to always wear sunscreen, especially on your face! 
Another important thing to keep on hand is a hairbrush and either detangle spray or leave in conditioner. This is for when you get out of the pool or ocean after getting your hair wet. You can spray your hair and get it brushed out. It prevents those unwanted tangles and make sure to keep your hair smooth so it can air dry without lots of knots! We love the Wet Brush to prevent damage, but any brush will do! 
Also, make sure to include things like a hat to shield you from the sun, your fav sunnies, and definitely a water bottle! You want to make sure to hydrate while you are out in the sun, and try to keep from getting too warm. I would also throw a few light and refreshing snacks in my bag too, that way you are totally prepared to enjoy your day!